LOVE AND GUTS / EYES WIDE OPEN marches on in honor of our fallen soldiers…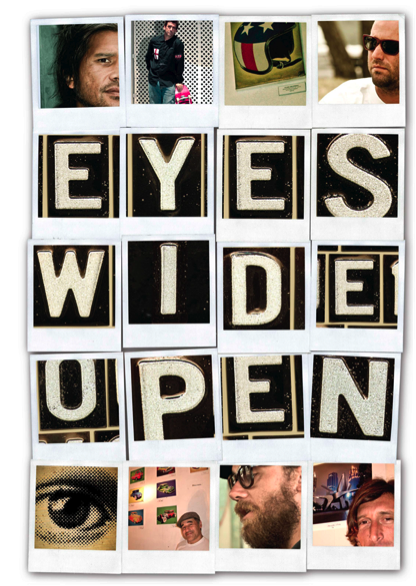 Costa Mesa, California welcomes the Love and Guts Art Show for what promises to be one of the most memorable shows to date. Skateboarding's past and present heroes will converge for an exhibition entitled Eyes Wide Open, which is centered around skating's fallen soldiers whose lives expired far too soon.
These losses have left a void in skating, but, their spirits and legacies continue to live on and as a special way to celebrate their lives, Love and Guts has chosen to further immortalize them via Eyes Wide Open. Participants in this year's show include Lance Mountain, Steve Caballero, Steve Olson, Pat Ngoho along with others who were all more than willing to lend their talents to this special exhibition.
The Show is located at The Camp. The Camp is an iconic experience, pushing the boundaries of retail and environmental space. Oakley is proud to bring Love and Guts to this unique and harmonious setting for another stop of the; Eyes Wide Open Tour. This will be Love and Guts fourth of five international stops for the 2010 year.
PLEASE NOTE THERE WILL BE TWO OPENINGS FOR THIS SHOW
THURSDAY, AUGUST 5TH – PRIVATE ONLY!
FRIDAY, AUGUST 6TH – GENERAL PUBLIC!
Hours: 6-10 pm
2937 Bristol Street, Costa Mesa, CA‎
MAP:

View Larger Map